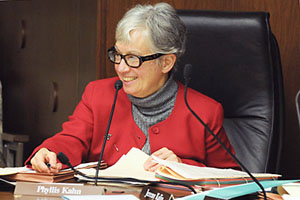 Chairing House Committee
Re-elect Rep. Phyllis Kahn
Help Phyllis win the DFL Endorsement for Minnesota State Representive District 60B:
Attend rescheduled DFL Ward 6 precinct 3 caucus, Wednesday, February 19th, 7 p.m. (registration begins at 5 p.m.) Caucus Handout
Run for delegate to the SD 60 Convention (to be held on Saturday, April 5th at De LaSalle High School).
Working Together For District 60B
A Forward-Looking Legislator for a Progressive Community.
Donate: Can you chip in $5?
You can use PayPal; first $50 is refundable to you from the State of Minnesota.
About Phyllis
Listening / Helping All of Us.
Phyllis's Vision: "How we will continue to improve the quality of life for all Minnesotans for the next 2 years."
Contact Us: Can you share ideas/questions?
---