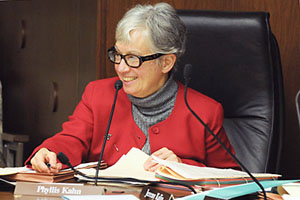 Chairing House Committee
Re-elect Rep. Phyllis Kahn in 2016!
Phyllis looks forward to your continued support in the upcoming caucuses on March 1st. With your support, Phyllis will continue to be our progressive voice at the Capitol.
Caucus and Become a Delegate: Caucus for Phyllis on March 1st and become a delegate to the Senate District Convention on April 9th.
Volunteer: Can you help Phyllis's campaign?
Voter Resources: Register to vote online, find where you vote, request an absentee ballot and other voter resources.
Working Together For District 60B
A Forward-Looking Legislator for a Progressive Community.
Donate: Can you chip in $5?
You can use PayPal; first $50 is refundable to you from the State of Minnesota.
About Phyllis
Listening / Helping All of Us.
Phyllis's Vision: "How we will continue to improve the quality of life for all Minnesotans for the next 2 years."
Contact Us: Can you share ideas/questions?
---