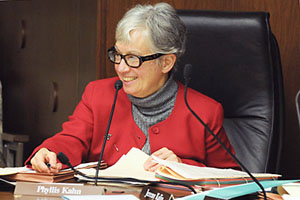 Chairing House Committee
Re-elect Rep. Phyllis Kahn
Thank you for Re-electing Phyllis on November 4th! Phyllis looks forward to your continued support in the upcoming caucuses.
Vote Early or Absentee: Early voting starts September 19th. With no excuse absentee voting, it's easier than ever to vote early in person or absentee!
Volunteer: Can you help Phyllis's campaign?
Voter Resources: Register to vote online, find where you vote, request an absentee ballot and other voter resources.
Working Together For District 60B
A Forward-Looking Legislator for a Progressive Community.
Donate: Can you chip in $5?
You can use PayPal; first $50 is refundable to you from the State of Minnesota.
About Phyllis
Listening / Helping All of Us.
Phyllis's Vision: "How we will continue to improve the quality of life for all Minnesotans for the next 2 years."
Contact Us: Can you share ideas/questions?
---